Elektra
2023 - Dancer
Opera directed by Claus Guth. Elektra is obsessed with taking revenge for her father who was killed by her mother.
Can Elektra persuade her sister to help her kill their mother, or must she do it alone?
With unbelievable force and outrageous harmonies, the huge orchestras allow us to hear the woman being overwhelmed, again and again, by her fantasies of revenge. The work takes up the insights of the founder of psychoanalysis, to such a degree that Elektra almost seems like a clinical study.


PC: Monka Rittershaus
Orlando
2023 - Dancer
Opera directed by Ted Huffman and choreographed by Jenny Ogilvie. Zoroastro warns Orlando about his tantrums caused by his unrequited love for Angelica, making him lose control. In Orlando furioso, Handel found a promising story that allowed him to innovate in music, throwing opera seria out of kilter. Handel's radical musical ideas in the underworld scene captivate with an ambiguity that manages to milk comic potential from tragic love madness.

PC: Barbara Aumüller
Voïce of Gaïa
2022 - Choreographer
Closure show of the festival "Mouvement D'Arts 2022". An original creation from Marion PLantey (choregraohy and staging) and Fabien Abadi (Composition and live Music). Dancers: Thomas Queyrens, Eva Coste, Léo Poulain, Jeanne Cathala and Mélen Cazenave.
With their new collaboration, Fabien Abadi and Marion Plantey invite us to interrogate ourselves on the place of nature in our everyday life and even more so, how the presence or absence of wildness impact our social interactions. The two artists used this new opportunity to bring a piece full of emotion, tenderness, and power, taking us on a 45min journey. We see the bodies encounters come and go. Displaying the many different ways one can exchange with an other through the music creation and the choreography, this piece navigates us through the confusion of the encounter's emotion. Bringing up a societal reflexion with modesty and poetry, they invite us to question our ways of interacting with each other in such a stressful society.

PC: Mélanny Rodrigues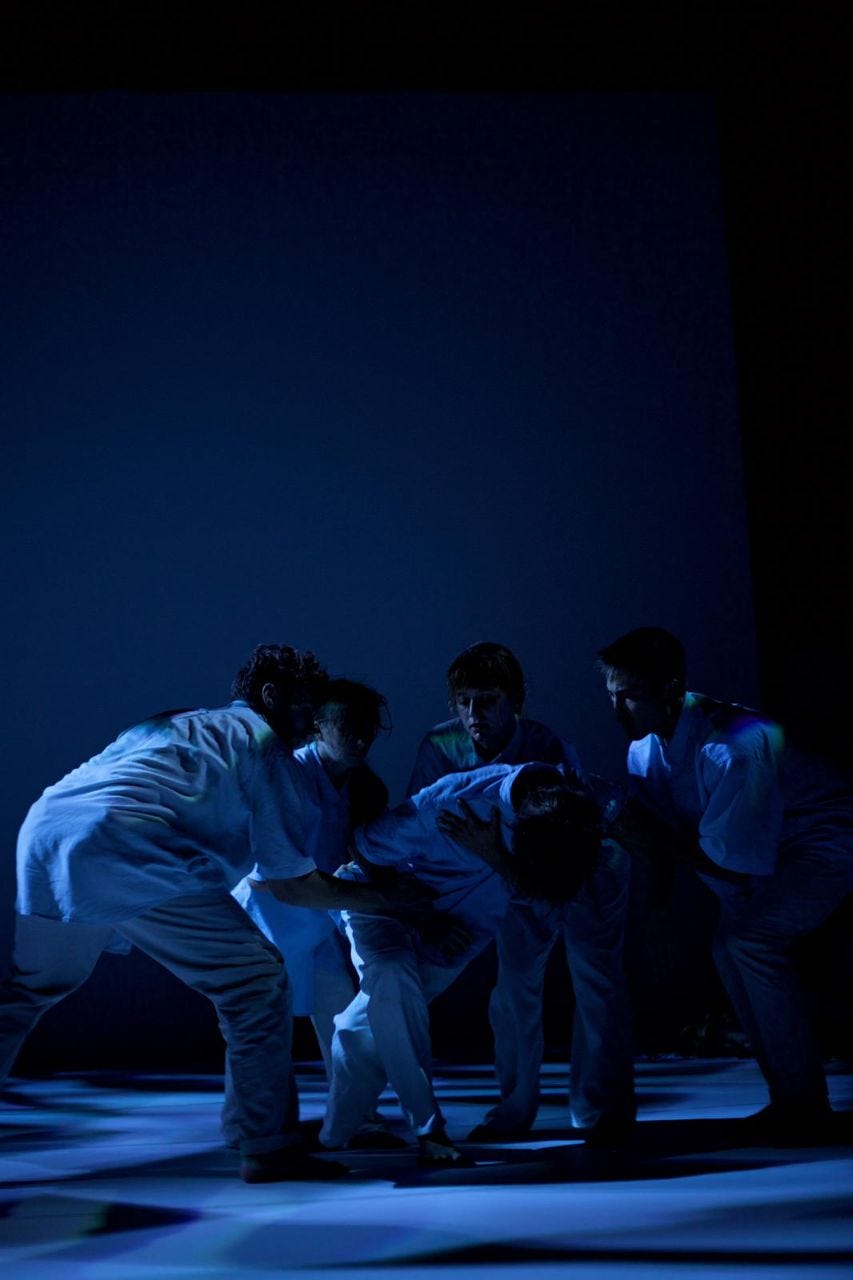 Il Viggio, Dante
2022 - Dancer
Opera directed by Claus Guth. In Il Viaggio, Dante Pascal Dusapin (Passion, 2008) and Frédéric Boyer offer an intimate journey through this reputedly unadaptable collection, which itself narrates the journey of an exemplary being through all aspects of human life until he achieves fulfillment in light and joy. Dante travels from the circles of Hell and their litany of the damned – which climax is his encounter with Lucifer – to Heaven from which Beatrice's enigmatic laughter emanates. Kent Nagano conducts the Chorus and Orchestra of the Opéra de Lyon. Claus Guth – for the first time at the Festival d'Aix – places his protagonist between life and death in a space that bears an uncanny resemblance to our contemporary world.

PC: Monka Rittershaus
M O V E
2021 - Choreographer & Dancer
The closing show of the festival "Mouvements D'Arts 2021", funded by the city of La Teste de Buch. This festival revolved around 4 major arts: painting, photography, music, and dance. Choreographed and staged by Marion Plantey and in collaboration with the musicians Fabien Abadi and Marine Thibault, the show "M O V E" explores how traveling and particularly encounters during travel affects and influence us.
Dancers: Marie Malein, Clara Martone, Marion Plantey, Ysabelle Supperbielle,
A woman wakes up with no memories. Who is she? Where is she from? Her journey will provide her with the answers she has always sought. Between an introspective journey and an initiatory quest, this visual tale will take us through emotions.


PC: Jean-Christophe Lauchas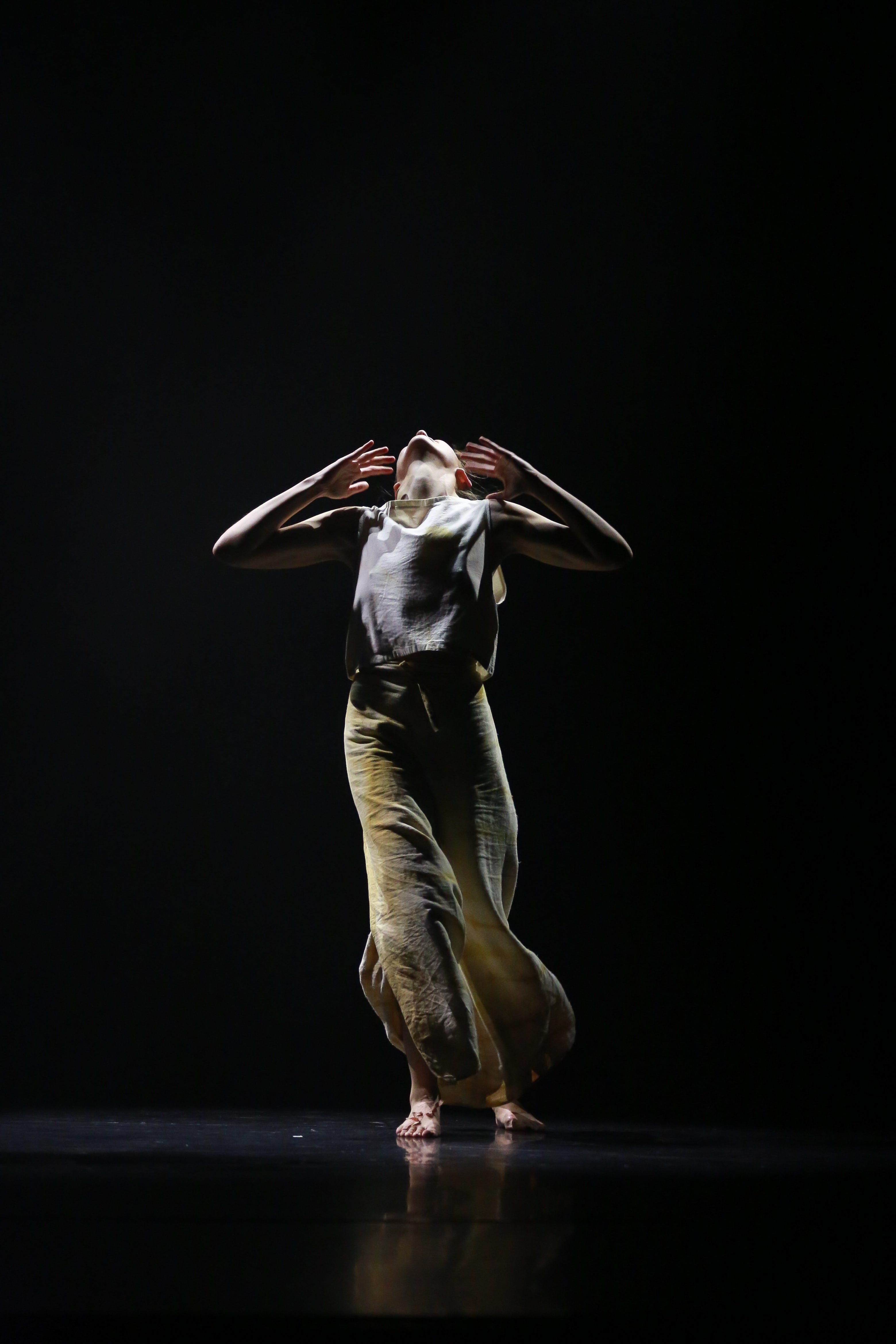 Dialogues des Carmélites
2021 - Dancer
Opera directed by Claus Guth and choreographed by Ramses Sigl.
Not long afterward revolutionary guards accuse the nuns of conspiring against the new regime. All convents are to be disbanded. The Carmelites, meeting for the last time, take a vow to remain true to their faith until death. Blanche was the only one who managed to escape before they were all arrested. But she suddenly reappears at the hour of execution, to share her sisters' fate: faced with the guillotine.

PC: Barbara Aumüller
Meet Me
2021 - Choreographer & Dancer
Due to the worldwide Covid-19 pandemic, millions of people are facing strict restrictions to their everyday lives. "Meet Me" explores the impact of such drastic changes on the way our social interactions are shaped, and on our ability to interact with one another. During a full improvisation performance, Francois Heun (Saxophonist) and Marion Plantey (Dancer) evolve together through the confusion of intimate and distanced moments, expressing their encountered emotions in sincerest honesty, mirroring the social changes we are all experiencing.


PC: Mehmet Vanlı
Mind Games
2020 - Choreographer & Dancer
Choreography and interpretation: Marion Plantey.
This creation from December 2020 is based on mental health diseases.
How to handle the struggle of heavy thoughts and confusion one can experience going through depression, anxiety, stress, or even addiction? By going through those mental health disabilities, one can find himself lost between the unconformable emotions and thoughts coming from their sickness, and the worry of social judgment, or even their self-perspective.
Carmen
2020 - Dancer
Opera directed by Barrie Kosky and choreographed by Otto Pichler.
Carmen turns José's life completely upside down, she dances, sings and defies adversities until she lies dead on the floor. Who or what drives this woman, in whom everyone seems to see a different person? Barry Kosky's 2016 Carmen enjoyed cult status from the word go. The director stages a breathtaking revue with dramatic depths and cheeky wit instead of clinging to the usual clichés and nostalgic folklore. By going back to the original version of the opera and using texts from the time when it was written, a completely new take on one of the most performed operas in international repertoire emerges — and an unforgettable evening.

PC: Monika Rittershaus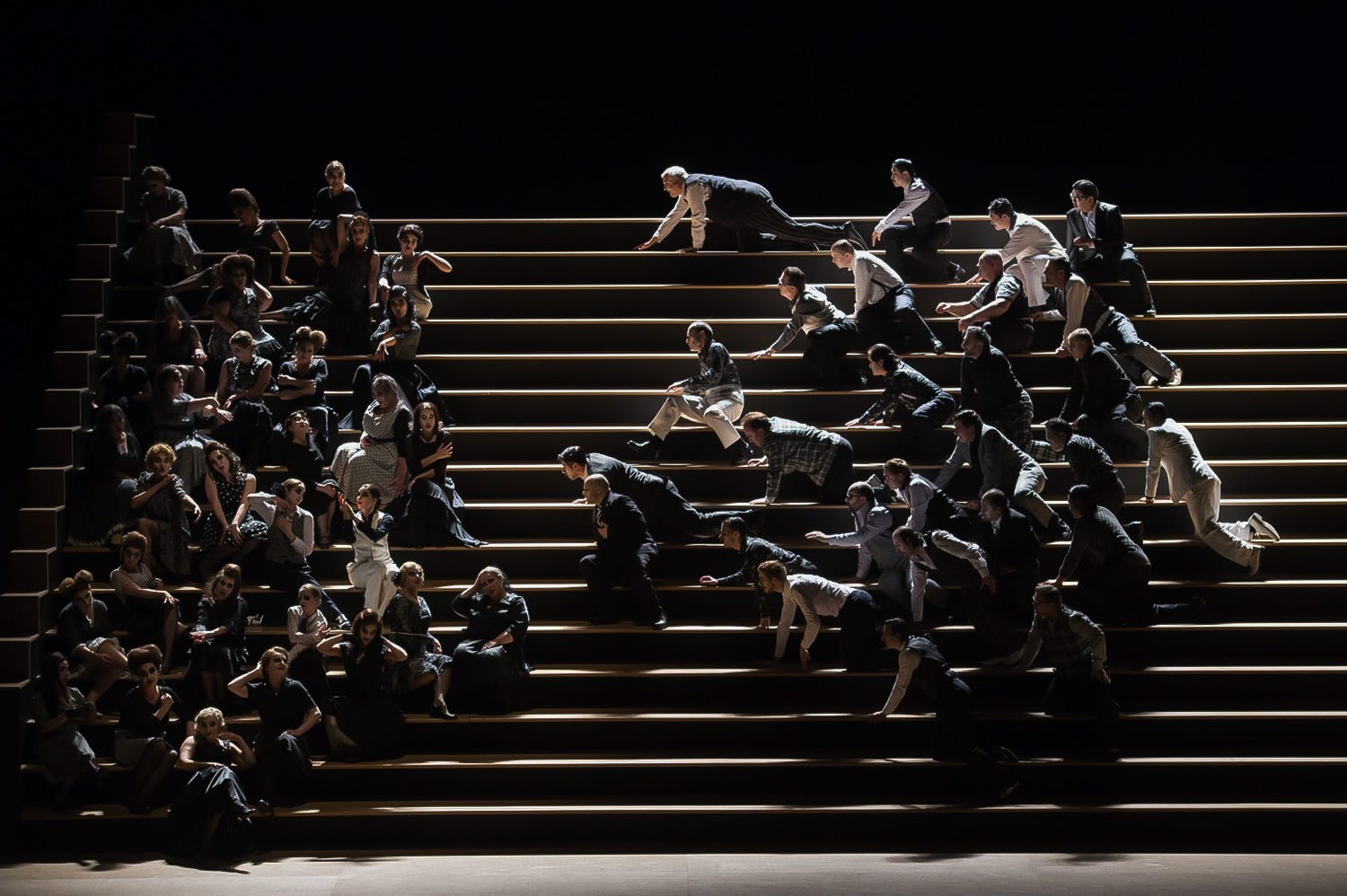 Silent Water
2019 - Dancer
Dance film and live performance by Johannes Härtl.
Together with his dancers, Johannes Härtl has translated the feelings and religious convictions of his artists into the universal language of dance in numerous interviews and improvisations. In the intermedial dialogue between filmed dance scenes, accompanying live performances and the congenial music of the composer Jan Paul Werge, poetic snapshots were created that reflect the human desire for meaning in life in visually captivating dance images.
PC: Maciej Schwarz
Little Hidden Wonders
2019 - Dancer
This piece choreographed by Nadine Gerspacher explores the space between reality and metaphor.
A shiny glitter ride full of absurdity, poetry, and unfiltered physicality, closely connected to life and its stories.

PC: Maciej Schwarz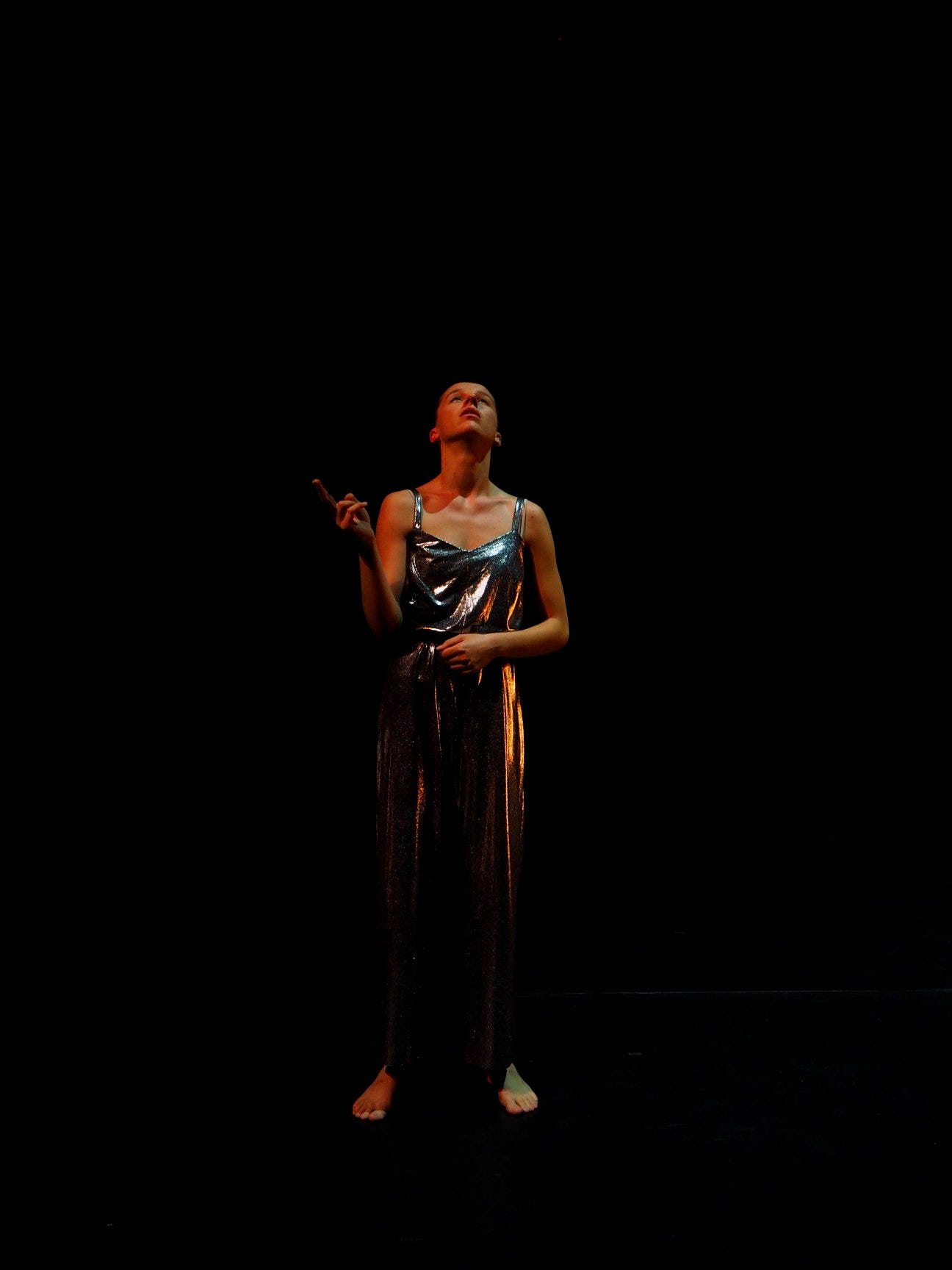 Take it all In
2019 - Dancer
Choreographed by Yael Cibulski.
Fourteen unique dancers synchronize each individual's expression with one group heart-beat.
I'm an Animal and I must be free to move
Take it all out
Take it all in.
An animal must be free to move -
The realization that strikes me sometimes, a reminder of the nature of nature which I am, embracing the empty space around the illusion of self.

PC: Maciej Schwarz
Kaiserin
2019 - Dancer
This piece, choreographed by Alessandro Sousa Pereira, is an interpretation of human power. Studying how humans transform and evolve when being in power "Kaiserin" also reveals how one can transform when superiority and influence disappear and vulnerability begins to show its face.

PC: Maciej Schwarz
Hotel Danube
2019 - Dancer
Almost 40 years after its premiere, the black and white dance comedy choreographed by Jessica Iwanson is still fresh and shows strong hierarchies, rich guests, poor servants, misbehaving strangers, and naughty children. And the kitchen is in total mayhem. Very soon after its first presentation, "Hotel Danube" developed a life of its own and became a success with the public and loved by the young and old: so far, it has had well over 100 performances with more than a dozen different casts!

PC: Maciej Schwarz
Hèlianthe
2018/2019 - Choreographer and Dancer
Choreographed by Marion Plantey.
Hélianthe is the first creation of Wamma Dance Company. This production explores the image of women in modern society. The dancers are shifting between different expectations women can endure during their lives. They go from strength to sensitivity, distorting the shapes of bienséance, finding their animal selves. They play among ideologies and mold they are supposed to fit in, denouncing, between emotions and humor, the ridiculous and terrible pressure women endure.

"Die fünf Tänzerinnen der Wamma Young Company um Marion Plantey übertragen unter dem Motto "Hélianthus Breakout" das Symbol der Sonnenblume für Stärke und Widerstand sowie ihre dazu in Diskrepanz stehende weiche, schöne Erscheinung auf das weibliche Image in der heutigen Zeit. Einerseits verkörpern sie, wie die Frau von der Gesellschaft gesehen wird - andererseits, wie zerbrechlich sie sich selbst jedoch auch fühlen kann. Zu gelbem Licht liegen alle in schwarzen Hosenanzügen auf der Erde, erblühen langsam zum Leben, räkeln und rollen sich, kriechen herum, spielen mit den Posen und Verhaltensweisen einer Frau in der Öffentlichkeit. Bei den Partnerings geht es nicht zimperlich zu: Da stopft eine der anderen den Mund, verschlingt sich mit ihr, um sie zum Schweigen zu bringen. Eine sich kontrastvoll entfaltende, dynamische Umsetzung zu zarter, sanfter Chansonmusik, durchbrochen von satten Sounds und wummernden Rhythmen, die von minimalistischen Bewegungen ebenso lebt wie von großen, prägnanten Bildern." Heike Haberl, Donaukurier, 11.3.2019

PC: Maciej Schwarz
Clockwork
2018/2019- Dancer
Choreographed by Minka Marie Heiss.
The piece title also refers to the film work "Clockwork Orange" by Stanley Kubrick, in which Beethoven's Ninth plays a central role. The film title A Clockwork Orange refers to different things: the movement as something lifeless and mechanically functioning. 'Orang' as in Orangutan comes from the Malay and means human. "As queer as a clockwork orange" is an expression in the London dialect that describes something that appears normal on the surface but is very bizarre inside. With the cynical farce "Clockwork Orange" Stanley Kubrick protests against the state apparatus, which seeks to tie outsiders together and robs them of their individual personality and makes a plea for unconditional individual freedom.


PC: Maciej Schwarz
3,87€
2017/2019 - Dancer
3.87€, choreographed by Alina Groder, is the first piece, which sets the funky tone. Starring colorful images, human-like behavior, with a hint of alien likeliness, the Funkytown performers take the audience into their own world.
We're always working on something. Most of the time, we're focused on getting results for our clients. But every so often we get the chance to experiment with new concepts and ideas.


PC: Maciej Schwarz